Bangladesh: Hermes-OTTO International is committed to helping street children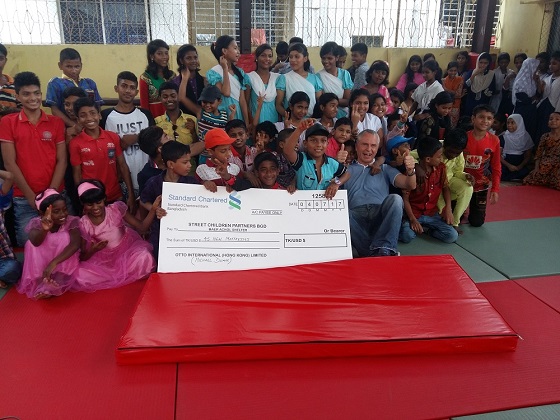 Hermes-OTTO International (H-OI) has an office and 125 employees in Dhaka, Bangladesh. In Maer Achol, the sourcing organisation has found a social project that makes it possible for the company and for individual employees to get involved locally and make a valuable contribution.
Maer Achol has been working for street children since 2001. The project's social workers, roam the streets of Dhaka, trying to encourage homeless kids to want to change their lives and to accept the support of the project. Maer Achol offers them accommodation, food and training. In this way, many former street children manage to find a path back into society and make a contribution to the future of their country.
H-OI has been supporting Maer Achol since 2016. Through the personal commitment of office manager Mikael Grard and his staff in Dhaka, the project receives support in a variety of ways - be it with donations in kind such as health packages for the children, or with the voluntary maintenance of Maer Achol's Facebook page.
H-OI CEO Michael Dumke was in Dhaka in 2017 and presented a donation of 45 urgently needed mattresses. "It was very important to us to find a project we could identify with where we can not only donate money, but offer support in various ways directly on site," he says. "We do support the project with donations, mostly donations in kind, but at the same time individual employees are also involved providing sponsorships or helping with job placements."
For example, H-OI was able to give 20-year-old Ridoy a start to his career as an internal quality inspector in a textile factory. Ridoy joined Maer Achol in 2006 at the age of nine. Although it was not possible to find our where he came from, thanks to the support of the project, he successfully completed his school-leaving exams.