Hermes Future Forum
Through its Hermes Future Forum, Hermes created its own platform in 2010 to discuss the future of corporate responsibility. The event, which takes place every two years, is intended to provide lasting impetus and provide managers with perspectives for corporate practice, highlighting in particular the global responsibility of companies in increasingly complex social and political contexts.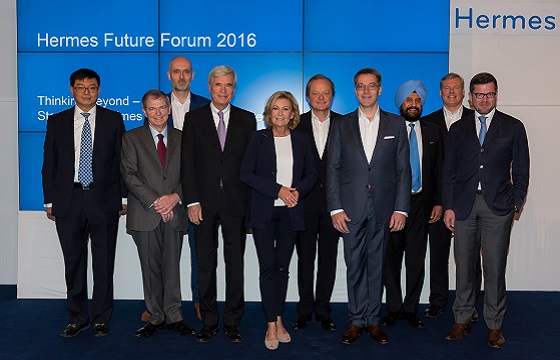 Renowned speakers reflect a unique spectrum of international expertise:
In 2010, Prof. Muhammad Yunus, who was awarded the Nobel Peace Prize for the invention of microcredits, was among those present as was Dr Kofi Annan, who launched the Global Compact initiative during his time as UN Secretary General.
In 2012, Jeremy Rifkin, for example, author of books such as 'The Third Industrial Revolution' and president of the Foundation on Economic Trends, spoke about the curse and blessing of the economy persevering with growth. Olin Liu, Chief Economist of China International Capital Corporation Ltd. explained her view of the euro crisis and national debt.
The third Hermes Future Forum in 2014 focused on the future of innovation - as usual, Dan Cobley, former Managing Director of Google, Kate Kui, Vice President of the Chinese online retail giant JD.com, Frederik Willem de Klerk, former President of South Africa and Nobel Peace Prize winner together with Nelson Mandela in 1993 discussed pertinent issues in a somewhat unconventional manner.
In 2016, Hermes staged its Hermes Future Forum for the fourth time in Hamburg, under the title: "Thinking Beyond – strategies in times of disruptive change". Hermes was once again able to win top-class guests from business, politics and science, including Satjiv Chahil (former HP and Apple), Joschka Fischer (former German Foreign Minister), Christoph Keese (Axel Springer), Hartmut Jenner (Kärcher GmbH & Co.KG) and Myron E. Ullmann (former J.C. Penney). They discussed possible scenarios and effective strategies for the future with hosts Hermes and the Otto Group as well as with Olaf Scholz, then First Mayor of the City of Hamburg.
With its four events to date, the high-quality and exclusive Hermes Future Forum has proven itself as a top conference for decision-makers - but also as a further component of Hermes' long-term sustainability efforts.