Selection of CR relevant prizes and awards
Employer
Hamburg's best employers in 2018: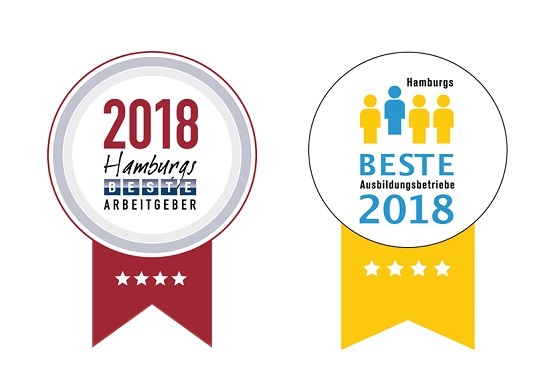 The 'Hamburg's Best Employers' award is based on an employee survey of participating companies and also it supports them in further improving their personnel work. For the fifth time in a row, Hermes was awarded the "Hamburg's Best Employers" prize in 2018.
Hamburg's best training enterprises in 2018:
The 'Hamburg's Best Training Enterprises' competition gives participants the opportunity to have their employer qualities tested under scientific conditions, with a seal of quality award given to the best-placed companies. In 2018, Hermes was included among 'Hamburg's Best Training Enterprises' for the sixth time in a row.
Integration Prize 2016:
The Integration Prize 2016 was awarded to Hermes Fulfilment GmbH for the integration of refugees at the Haldensleben site by the Ministry of Labour, Social Affairs and Integration of the state of Saxony-Anhalt. As part of its initiative, Hermes Fulfilment GmbH employs refugees in dispatch, trains them for further tasks and finances German language courses to improve their language skills.
Services
YouGov BrandIndex 2018:
Hermes offers the best value for money of all the parcel service providers tested - this is the result of the YouGov BrandIndex 2018. In cooperation with the market research institute YouGov, the Handelsblatt newspaper investigated which companies offer the best value for money from the point of view of German consumers.
Customer rating 2.0 TÜV Saarland (10/2017):
TÜV Saarland conducts regular customer surveys on behalf of Hermes to check the services provided. In 2017, Hermes received the overall rating 'good' in the area of customer satisfaction for the fifth time in a row.
Environment
Hanse Globe 2017:
In 2017, the Hamburg Logistics Initiative awarded the HANSE GLOBE prize for the 11th time – Hamburg's international prize for sustainable logistics. The award is given to projects which show that ecological goals and/or social commitment are by no means in conflict with economic success. Hermes won the Hanse Globe 2017 with its 'Urban Blue' programme.
ISO 14001 certification by DQS (10/2017):
The international environmental management standard ISO 14001 defines globally recognised requirements for an environmental management system. Following a 'Plan, Do, Check, Act' cycle, the system focuses on a continuous improvement process with regard to the company's environmental performance. Hermes has had its methodically-structured environmental management system certified for the past 17 years.
DGNB Gold Certificate for new logistics centre 2017:
The certification system provided for by the German Sustainable Building Council (DGNB) can be used to describe and evaluate the sustainability of buildings over their entire life cycle. For example, Hermes Germany's new logistics centres in Bad Rappenau, Mainz and Berlin-Brandenburg were awarded DGNB gold certification in 2017 for outstanding building concepts with special ecological and social added value. All new logistics centres are currently being planned and implemented according to this standard.