Long-term partnerships for the last phase of delivery
We assign the 'last mile' of the delivery process, including all subsequent services related to furniture and large-appliance deliveries, to 53 depots across Germany, Austria, Switzerland and the Netherlands. These depots are operated by independent furniture-logistics and moving companies. The excellent performance and quality standards of our Hermes Two-Man Handling service are founded on these long-term partnerships, as well as on a highly qualified, regularly trained staff with a very low rate of turnover.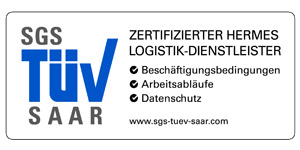 In 2014 and for the first time, Hermes had its Two-Man Handling depots audited and successfully certified by SGS TÜV Saar, as a key part of an overall CSR strategy. The audit focused on employment conditions, health and safety, public perception, product quality and operating procedures.
About SGS-TÜV Saar GmbH
The SGS Group is the world leader in testing, verification, verification and certification. Founded in 1878, SGS, headquartered in Geneva, today sets world-renowned standards for the highest standards. Learn more.