Services for optimum supply chains
It's hard to overestimate the complexity of supply chains. Or, in other words, there is potential to make existing processes more effective and seamless across the board. And our SCM solutions are designed to do just that – with end-to-end solutions that are cost-optimised, lead-time-optimised or both. The choice is yours.
Warehousing Solutions
We offer a wealth of value-added services to improve the efficiency of your warehouse logistics. With our automated warehouse process chain. We reduce not only stock levels, but also warehousing and order-picking costs.
Consolidation Concepts
Successful consolidation saves you money, which is why we are happy to look for quicker or better-value alternatives on your behalf. To do so, we will either consolidate at regional level (buyer consolidation), inter-regional level or international level.
China Retail
Restructuring goods flows in Asia is our speciality. To name just one example, we deliver directly to your customers in Asia, meaning you cut out the cost of time-consuming reimportation.
Quality Control
We inspect the quality of goods while they're still in the country of production – but, of course, using German standards. Whether laboratory inspections, product inspections or quality control, we will check anything you ask us to.
Unit Cost Pricing
When determining costs of products, logistics costs are generally regarded as volatile. With our unit cost pricing system, you can protect your contribution margin more effectively. This removes the need for you to laboriously inspect invoices.
Garments on Hanger
We know a lot about clothes – and can therefore offer you a range of sophisticated additional services. Not only is high-quality fashion, for example, transported on clothes hangers, but we also offer numerous added-value services: packing, repacking, order picking at article level, labelling, scanning and much more.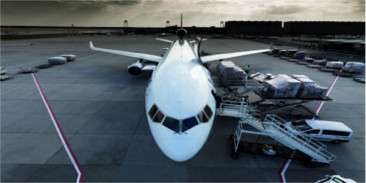 There before you know it – with airfreight.
Speed and security are vital whenever goods take to the sky, which is why we have secure capacity waiting for you. And, as an accredited IATA agent that works with the world's best carriers, we are able to guarantee the very highest quality standards while your deliveries fly through the air.
Service A – when there's no time to lose.
This express service constitutes the fastest door-to-door solution. This means that your cargo will be given the shortest possible transit time and priority dispatching – around the clock.
Service B – see just how cost-effective airfreight can be.
Our regular flight connections provide you with a rapid transport solution and a pleasing degree of planning reliability.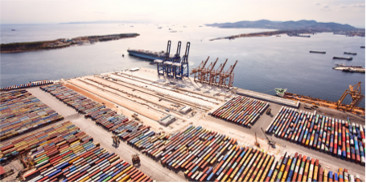 Sea freight: With integrated solutions around the world.
Sea freight is a core component of integrated transport solutions across the globe. We cooperate with leading carriers all over the world in order to be able to provide you with just the right amount of hold space.
In order to ensure maximum planning reliability combined with optimum flexibility, we steer a clear course in three areas when it comes to sea freight: Our partnerships enable us to ensure frequent departures in all shipping areas, meaning that your goods can even be loaded on board at short notice. Our intelligent portfolio of full and less-than-container loads allows us to reduce transit times and store your cargo perfectly. Finally, leadtime-driven coordination makes sure that all deliveries arrive according to plan.
A perfect synthesis of sea and air.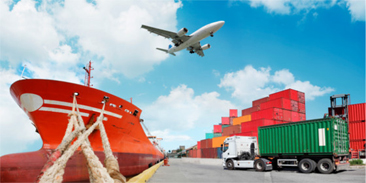 Particularly with long trip distances, flexibility is just as important as planning certainty. That's why we offer both. To ensure that your cargo arrives just as you wish.
Thanks to our sea-and-air hub in Dubai, you can combine the speed of airfreight with the attractive prices of sea freight. Regular departures with fixed transit times let you stay in control of the entire transport chain.
We transport your goods reliably around the world. And there's more: this integrated transport solution enables you to demonstrably reduce your CO2 emissions.