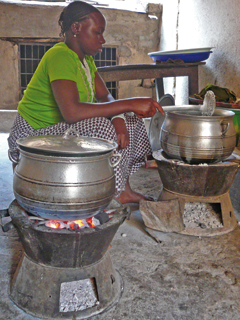 In addition to the fight against the progressing desertification, the preservation of the few forest areas is a major problem for Mali.
Covering the high demand for fuel poses a major challenge for one of Africa's poorest countries, because forests, especially near the villages, continue to shrink. In addition, cooking on the open fireplaces due to the strong development of flue gas is a high risk for respiratory diseases.
During the project period of ten years, 300,000 efficient, fuel-saving cooking stoves will be locally produced and distributed, saving approximately 72,000 tonnes of CO2.
In addition to the positive effect on the climate, the project protects the local environment by preserving the forest as an important habitat for animals and plants. The health of the population also benefits from significantly lower flue gas emissions, while the production, marketing and maintenance of the furnaces creates additional jobs. Thus, the economic development at the project location is sustainably supported.