Delivery within a specific daily timeframe
Our standard procedure is to notify the recipient of the time of delivery within one of three daily timeframes. An additional evening delivery timeframe (after normal working hours) is optional.

To make the delivery process as transparent as possible to the recipient, the delivery team notifies him/her by telephone 60 minutes prior to arrival.
Offer your customers more delivery-service benefits
48-hour delivery

24-hour delivery (merchandise warehoused at our distribution centre)

COD collection

Evening and Saturday delivery

Furniture assembly and installation services for electrical appliances

Packaging removal and disposal

Removal and disposal of old appliances and upholstered furniture
A 'very good' record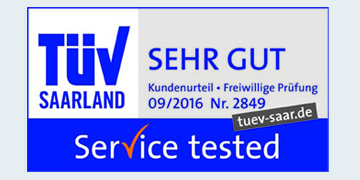 In 2016, TÜV Saarland conducted its fourth survey of merchandise recipients about their satisfaction with the performance of HES. Once again, they were impressed by the reliability and customer-oriented service of the company's two-man teams. As a result, the consumer-protection institute certified HES as 'very good', its highest rating.
Some 1,600 delivery recipients of furniture and large electrical appliances were interviewed, 96.2% of whom very much recommended the company's services.
The key performance criteria were:
Scheduling of and meeting delivery deadlines

Handling of merchandise

Amiability of the delivery agent

Professionalism of the delivery agent
Hermes received particularly high marks for its scheduling of and meeting delivery deadlines, as well as for the amiable demeanour of its Two-Man Handling delivery teams.