Doing the right thing: The Hermes sustainability programme "WE DO!"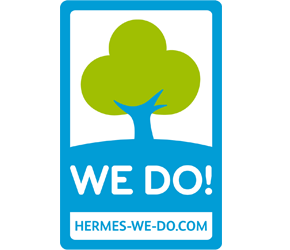 It's what you do that matters. To emphasise the importance of protecting the environment, Hermes made it a permanent goal of the company very early: back in 1986, the year of the Chernobyl nuclear disaster. We were already convinced back then that doing business sustainability is the only way to ensure success over the long term. Even though the nature of Hermes' work is such that it fulfils orders placed by others, it has set itself the goal of not doing so at a cost to mankind and the environment.
Our sincerity and dedication to this position is proven by our 16 years of ISO 14001 certification, the international environmental standard that mandates continual improvement. Whether it is through our use of recycled paper, the principle that Hermes ParcelShops should be within walking distance, our solar-powered facilities or our increasingly electric vehicle fleet, Hermes' clearly defined goal is to significantly reduce CO2 emissions by 2020. We intend to make reductions of at least 50 percent at our facilities and 30 percent in distribution. "We set binding goals and ensure transparency during implementation", says Frank Rausch, CEO Of Hermes Germany (HG), who as CEO is also responsible for the topic of sustainability, "and subject ourselves to external testing by experts".
Thus, in 2010 a comprehensive, far-reaching corporate initiative was launched under the name "Hermes - WE DO!". The climate change and environmental programme, unique in the industry, comprehensively bundles the efficient use of resources across all of the various company divisions. All areas of the company are involved and it takes both upstream and downstream steps in the logistics chain into account.Its core element is a CO2 master plan that specifies all current environmental protection activities, as well as those planned for the future.Every year, transport-related CO2 emissions are to be reduced by two percent and facility-related emissions should be reduced by 3.5 percent. Furthermore, Hermes provides regular information to its clients about the emissions that been generated by shipping through Hermes in the form of a free CO2 report. Hermes then uses this information as both an invitation and as leverage to work together with the client to permanently reduce these emissions.
The following examples, some of which focus on details, some of which look at the big picture, show how sustainably Hermes is on the go.