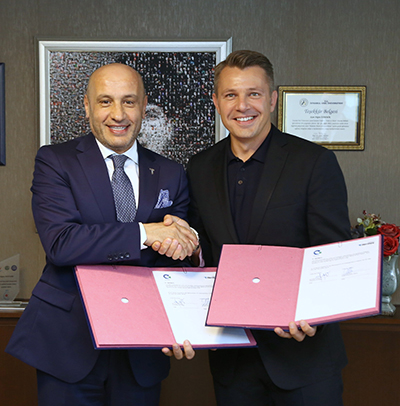 The Hamburg-based testing service provider Hermes Hansecontrol and the Turkish testing institute EKOTEKS are now working closely together. Both companies signed contracts for strategic cooperation in Istanbul a few days ago. With this, Hermes Hansecontrol is further expanding its international network.
"We are pleased to be able to implement a quick entry into the Turkish market within the framework of our cooperation and to have an experienced partner in the field of textile testing at our side with EKOTEKS", said Lutz Lehmann, CEO of Hermes Hansecontrol Group.
EKOTEKS has been successfully active on the Turkish market for twenty years and tests not only textiles and fabrics, but also jewelry, hygiene and baby products as well as detergents. "We look forward to working with Hermes Hansecontrol and the resulting perspective of testing products reliably and economically worldwide," said Mustafa Gültepe, president of the Istanbul Ready-made Clothing and Apparel Exporters' Association (İHKİB).
In the future, our synergies will be used to strengthen our international presence and combine our expertise. In addition, Hermes Hansecontrol aims to expand its testing portfolio and further broaden its range of service products in the textile and clothing industry. With access to the resources of EKOTEKS, Hermes Hansecontrol receives not only direct access to the Turkish market, but furthers its stated goal of increasing the quality of the entire supply chain. "Alongside product certification, quality assurance throughout the supply chain is a high priority for us. In addition to quality control, this includes the acceptance of social responsibility and the promotion of sustainable production," explained Lutz Lehmann.