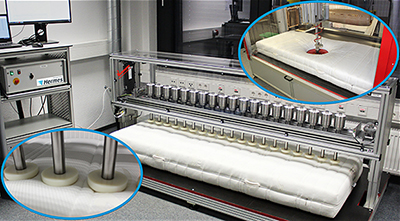 Regular time for rest and recuperation is crucial to health, not to mention physical and mental performance. Good mattresses and cushions play an important role in this regard. However, for consumers it is often difficult to differentiate between high-quality and substandard products. For this reason, Hermes Hansecontrol is expanding the range of mechanical tests it offers for furniture and will also offer test methods for mattresses and upholstery in the future. This provides manufacturers with unique selling points so that they can set themselves apart from the competition and improve the quality of their products in a targeted manner.
In many cases, problems with the quality of mattresses only become apparent after prolonged usage. At Hermes Hansecontrol, it will soon be possible to simulate the aging process based on standardized test methods. The functional properties of the foam material can also be assessed and evaluated.
One of the most important criteria in this respect is the change in hardness of mattresses as well as other seating furniture and furniture upholstery over the entire lifecycle of these products. As a rule, you can assume an average lifespan of up to 10 years for mattresses.
In order to obtain measurements regarding the hardness and durability of the work material, they are tested mechanically by, among other things, simulating stresses from the user on the mattresses and furniture upholstery. Hansecontrol is also capable of determining the hardness zones of mattresses across the entire lie down area and at 20 different points with a zone-testing machine especially developed for this purpose.
With respect to this special type of test for the distribution of different hardnesses within the mattress, Hansecontrol takes a leading role among test institutes as both the method and the corresponding test technology have not been applied in any Standard yet. With the help of contour diagrams, the mattress zone results can be passed on to end customers in a comprehensive and usable form. Particularly in times where mattresses have five, seven, or even more hardness zones, a test of this kind is an important instrument when it comes to assessing quality.
The following standards and provisions are relevant, among other things, when it comes to testing mattresses and parts of upholstered furniture:
Mattresses:
DIN EN 1957:2013-01 Furniture – beds and mattresses – test method for determining the functional properties and performance criteria

DIN EN ISO 2439:2009-05 Soft-elastic polymer foams – determining the hardness (indentation technique) (ISO 2439:2008)

DIN EN 1334:1996-07 Household furniture – beds and mattresses – measurement methods and recommended tolerances

RAL GZ 430 / 6 – Special quality and testing regulations for mattresses
Foam tests:
DIN EN ISO 2439:2009-05 Soft-elastic polymer foams – determining the hardness (indentation technique) (ISO 2439:2008)

DIN EN ISO 3385:2014-10 Soft-elastic polymer foams – determination of fatigue by constant-load pounding (ISO 3385:2014)

DIN EN ISO 3386-1:2015-10 Polymer materials, soft-elastic foams – determination of stress-strain characteristics in compression – part 1: Low-density materials (ISO 3386-1:1986 + Amd 1:2010)

ASTM D3574 Standard test methods for flexible cellular materials – slab, bonded, and molded urethane foam

DIN 53579:2015-04 Testing of soft-elastic foams, indentation test on finished parts
If you have any questions on this topic, please get in touch with your respective sales representative in the sales department or order management department at the phone number +49 (0) 40 300 33 73 - 6124 or by email.