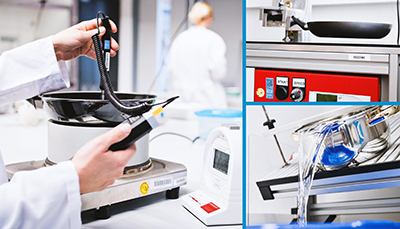 Additional test equipment promises even more precise analyses: Hermes Hansecontrol has further refined its cookware testing in accordance with DIN EN 12983-1 in order to provide its customers with 100 % reliable results when it comes to quality and safety. Among other things, the standard prescribes comprehensive tests for the handles of pots and pans. During corresponding continuous load testing for example, cookware is filled with 1.5 times the usable content then lifted and set down 15,000 times.
A further test procedure assesses the bending strength of the cookware bottom. The bottom should be as level as possible to ensure efficient heat transfer to ceramic glass hobs. Outward curvature must not occur in the process. In the thermal shock resistance test, the independent testers from Hermes Hansecontrol determine whether the bottom still exhibits the same characteristics after prolonged use. In order to test this, the product is heated and then quenched with cold water once it has reached a certain temperature. Repeat exposure of the cookware to this extreme stress makes it possible to simulate changes over time. Furthermore, the standard also calls for a pour test to determine how well liquids flow over the edge of the pot.
In addition to tests in accordance with DIN EN 12983-1, the specialists from Hamburg also offer further tests based on this series of standards. For example, the icing sugar test is very useful when it comes to assessing uniform heat distribution. During this test, the bottom of the pot is coated with a kind of frosting. Then testers observe how fast the entire area melts after the hot spot (the area melting first) begins to melt. The shorter the time span, the more effective the heat distribution. Further possible tests can be agreed to on an individual basis.
If you have any questions on this topic, please get in touch with your resective sales representativet in the sales department or our customer competence center at the phone number +49(0)40 300 33 73 - 6124 or by e-mail.