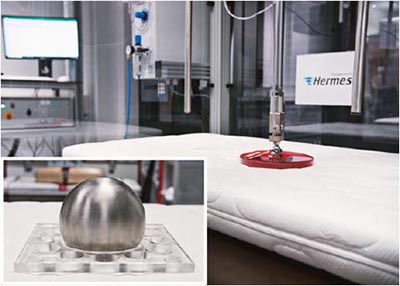 Comfortable firmness, optimal support for shoulders, hips and spinal column, a balanced sleeping climate with adequate transport of moisture combined with the longest possible product life cycle: When purchasing mattresses for young people and adults, the focus is on quality-related product characteristics in particular – in addition to the chemical safety of the materials used. The situation changes when it comes to mattresses for babies and small children: This group of users is particularly at risk; first and foremost, safety requirements must be fulfilled.
In many cases, very young children in particular require more than 16 hours of sleep per day - time they mainly spend in their own beds. That's why parents pay all the more attention to the quality information provided by manufacturers when shopping for a mattress. The DIN EN 16890:2017-08 standard "Children's furniture – mattresses for children's beds and cribs – safety requirements and test methods", published in 2017, makes it possible to objectively assess and evaluate the sleeping bases of children.
In most cases, children's mattresses are made of a single layer of foam without any integrated zoning profile. In some cases, manufacturers also work with additional cover layers, for example, made of coconut fibers. The most important test criterion for a children's mattress is firmness. In the first months after being born, infants have very limited motor skills. They are incapable of rolling from one side to another or lifting their head on their own. Thus, soft mattresses can pose an acute risk of suffocation. The nose and mouth can in fact sink into excessively soft mattresses, thus restricting the supply of fresh air. Carbon dioxide from exhaled air can collect in an indentation around the head – which may be a potential cause of the so-called SIDS (Sudden Infant Death Syndrome).
The independent experts from Hansecontrol can perform all tests in accordance with DIN EN 16890 in order to assess the product safety and quality of the children's mattresses. With the so-called "ball test", for example, a test ball replicating a child's head in terms of its shape and weight with an underlying template is placed on the mattress. With excessively soft mattresses, the ball will sink into the foam so that it is located flush with the template. However, the test is considered passed if there is sufficient distance between the ball and the template. Possible points where the throat or body could get caught, small parts, labels and stickers, chemical constituents and much more are also checked for. In addition to the test of just the mattress, Hansecontrol also offers testing of loft and bunk beds, cots and folding cots. The following current standards are relevant in this respect:
DIN EN 16890:2017-08 – Children's furniture – Mattresses for cots and cribs – Safety requirements and test methods;

DIN EN 716-1:2017-08 – Furniture – Cots and folding cots for domestic use – Part 1: Safety requirements;

DIN EN 716-2:2017-08 – Furniture – Cots and folding cots for domestic use – Part 2: Test methods;

DIN EN 747-1:2015-08 – Furniture – Bunk beds and loft beds – Part 1: Safety, strength, and durability requirements;

DIN EN 747-2:2015-08 – Furniture – Bunk beds and loft beds – Part 2: Test methods;

DIN SPEC 68200:2018-01 – Furniture – Beds and mattresses – Test methods for assessing the functional mechanical characteristics of zone mattresses and zoned lying systems.
If you have any questions on this topic, please get in touch with your responsible contact in sales department or our customer competence center at the phone number +49 (0) 40 300 33 73 - 6124 or by email.